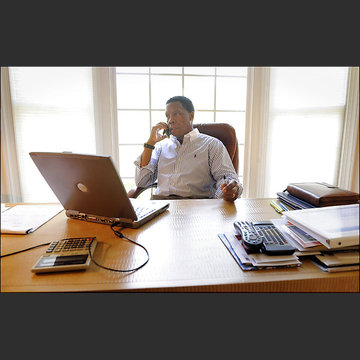 Gender:
Male
Ethnicity:
Black / African descent
Lives in:
Fairfax, VA (United States)
Website:
http://www.thetransitionroadmap.com
Last Login:
2012-11-27

Profile Last Updated:
2012-05-06

Member Since:
2012-04-20


About
Mr. Thomas is an accomplished business executive with keen experience in change management, human capital analysis, organization development, executive and transition coaching, leadership development, complex M & A integration, complex employee relations resolution, and HR alignment with business imperatives. He is considered a trusted business advisor, and successful proactive leader and developer of human resources and management professionals. He has been a guest panelist and keynote speaker on numerous human capital, career development, and business topics. He is President and Founder of J.E. Thomas & Associates, a human resources and management consulting firm. Mr. Thomas serves as a senior Human Capital Advisor to companies and boards on a full scope of human capital and management issues. He has also provided transition coaching to hundreds of clients. Mr. Thomas is an author and his book, "Want That Job? What You Need To Know Right Now!" has been widely accepted by those in transition as a valuable resource. He was the EVP of Human Resources and Administration for webMethods, Inc., a global software company. He led the human resources, facilities, and information technology departments and provided leadership to these functions worldwide. Prior to joining webMethods, Mr. Thomas provided HR and Management consulting to companies in the Washington, DC area as a member of the consulting firm T.J. Ettinger, Inc. Mr. Thomas was requested numerous times to lead major human resources restructuring and change management projects. Mr. Thomas' professional experience spans diverse companies and industries. He has successfully held management or executive level human resources positions at Ford Motor Company, Lockheed Martin, American Red Cross-National Headquarters, LCI International (acquired by Qwest Communication), and 2nd Century Communications. Mr. Thomas holds BA and MA degrees from Montclair State University.

Videos 2
Channels 1
Video Comments 1
Channel Comments 0
The Transition Road Map-7minute Portion
7:06 |

5.0

/ 0.0
The Authors Show Interview of Jim Thomas
19:32 |

1.0

/ 0.0
OppsPlace for connecting Minorities and Business

Mr. Johnson--your approach is spot on. We met briefly at a Potomac Officers Club luncheon many years ago. I have been building my HR and Management consulting firm over the last 5 years. However, recently I have spent most of my time being a career coach to hundreds of professionals in transition, giving presentations on the subject, and marketing my book on the subject. Many job seekers are not prepared to distinguish themselves in the interview and get the job them want. I would like to spend 30 minutes with you to discuss what I have done and how we might be able to enhance each others approaches to this issue. Please take a look at a short video that was done to show a portion of a presentation I did recently. http://youtu.be/Hj5y8Xt0GLY All the best, Jim Thomas--yourtransitionroadmap@gmail.com
(no channel comments yet)