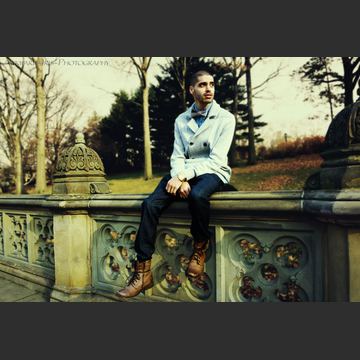 Gender:
Male
Age:
31
Ethnicity:
Latino / Hispanic
Lives in:
Brooklyn, NY (United States)
Website:
http://www.youtube.com/us...dwitwordz1
Last Login:
2013-06-13

Profile Last Updated:
2013-05-26

Member Since:
2013-02-13


About
Shane Romero, is an artist out of Bed-Stuy Brooklyn. He's got a sharp tongue when it comes to his poetry. Shane started attacking venues like a set of flying knives at the tender age of 16 . His poetry is a reflection of his personal life, what he sees on a daily basis. In his writings he takes a direct shot, addressing issues of the inner city; race, violence, the uphill battle of love, and his efforts of bettering himself. He hopes to touch everyone within earshot to his story; that they can relate, perhaps to help someone who may be going through similar situations. Shane has taken part in major slams throughout the states. By a young age Shane achieved his dreams of being a full time spoken word artist, first moving to Los Angeles, Ca for a short period of time where he featured at countless venues and colleges throughout the West coast. Shane was a member 3 national poetry slam teams. In 2010 he took second place in group piece finals. Shane has now toured throughout the whole nation and completed one book and has another book set to release in 2012. He's been published in "Stars in Our Hearts" book in late 2011 and has shared stages along side many nationally acclaimed poets. He is 1/4 of a traveling play production called "The Male Ego." Shane strives to give back to the community; youth who will follow in his foot steps. In 2008 Shane was the coach for the Inland Empire BNV youth slam team which was featured on HBO held in Washington, DC. Shane also teaches creative writing/poetry workshops. He is also 1/2 owner of a nonprofit "Hungry & Humble" which provides funds for the special olympics. Shane Romero will continue to bare his story and life on stage until the last word falls from his throat. "I want to speak for the unspoken."-Shane Romero Twitter: @ShaneH_H Booking: Hillary@be-colleges.com or BookingShaneRomero@gmail.com

Videos 1
Channels 0
Video Comments 1
Channel Comments 0
(no channels yet)
Prayer For Her

I really appreciate your support for my art and my video.
(no channel comments yet)