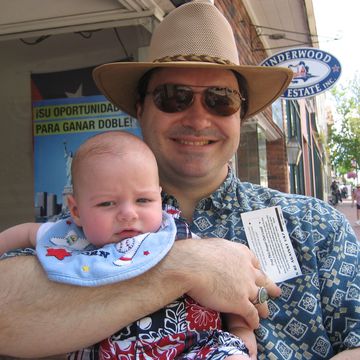 Gender:
Male
Age:
53
Ethnicity:
East Indian
Lives in:
Chaplin, CT (United States)
Website:
http://chris.komuves.org/
Last Login:
2022-03-17

Profile Last Updated:
2020-09-16

Member Since:
2008-04-28


About
I am the primary software developer and architect for Binge. I've been developing web-based software applications since 1993, mostly large-scale directory, collaboration (social networking) and financial software. I was a Member of Technical Staff (MTS) in Bell Labs Research where I worked for 7 1/2 years, and later a Director at Cibernet Corporation where I was the principal software developer and architect. My volunteer activities include being the leader of the Community Emergency Response Team (CERT) for the towns of Chaplin and Hampton, CT; being a member of the Democratic Town Committee for Chaplin, CT (and a convention delegate in 2010); and being a member of the Chaplin Conservation Committee. Back in college (Rutgers College), I used to run the Native American organization there (RONAC). I am a member of the SCA (Society for Creative Anachronism), where I regularly attend some events, like the Pennsic War. I like a lot of music, including rock, folk and classical. Jethro Tull is probably my favorite band. I'm also very fond of Kate Bush, Kitaro, the Moody Blues and Led Zepplin. In folk music, I am partial to the likes of Greg Brown, Ani DiFranco and Dar Williams. I used to attend the Falcon Ridge Folk Festival every year for about 12 years. I also regularly attend Contra dances, and occasionally get to do English Country dances and other folk dances. I've been trying to learn belly dancing, but it'll take a lot more training. My favorite TV series of all time is Babylon 5; with Dr. Who, Monty Python and Black Adder also being ones I really enjoyed. I trained in and taught Hung-gar Shaolin Kung-fu for many years. I also hunt and butcher most of the red meat I eat--venision, as well as hunting turkey and occasionally some smaller animals.

Videos 67
Channels 10
Video Comments 14
Channel Comments 1
Barack Obama: 2010-08-03 Town Hall w/ Young African Leaders
55:27 |

5.0

/ 0.0
Barack Obama: 2009-01-20 Inauguration
21:21 |

4.0

/ 0.0
Michelle Obama: 2010-05-27 Social Innovation Fund Match
25:25 |

4.0

/ 0.0
Michelle Obama Addresses Young African Women Leaders
43:33 |

3.0

/ 0.0
Barack Obama: 2009-01-20 Swearing In as 44th President
1:33 |

3.0

/ 0.0
Reefer Madness (1936)
1:01:37 |

3.0

/ 0.0
2011-02-16 Interview w/ Maya Angelou
2:34 |

3.0

/ 0.0
2008-08: 4 Days in Denver:Behind the Scenes at DNC
14:45 |

3.0

/ 0.0
Barack Obama 2008-08-01 Heckled by Black Protesters
5:42 |

2.0

/ 0.0
Martin Luther King, Jr. "I Have a Dream" (FULL SPEECH)
17:27 |

2.0

/ 0.0
Trojan Condom Commercial
1:16 |

2.0

/ 0.0
Meeting in Cleveland: Winning the Future Forum
3:20 |

2.0

/ 0.0
ZaZoo Condom Commercial
0:40 |

2.0

/ 0.0
2011-02-16 Interview w/ Bill Russell
1:38 |

2.0

/ 0.0
Carnival of Souls (1962)
1:22:59 |

2.0

/ 0.0
Barack Obama 2006-06-28 Speech on Religion
5:10 |

2.0

/ 0.0
Black Dynamite--Official Trailer (2009)
2:17 |

2.0

/ 0.0
Binge & DJ Drama Salute LYD Grand Prize Winner
1:29 |

2.0

/ 0.0
President Eisenhower's Farewell Speech
1:53 |

2.0

/ 0.0
Barack Obama: 2008-06-15 Father's Day Speech
23:49 |

2.0

/ 0.0
Barack Obama: 2008-08-28 Speech to the 2008 DNC
50:19 |

2.0

/ 0.0
Barack Obama: 2004-07-27 Address to the 2004 DNC
17:38 |

2.0

/ 0.0
Barack Obama: 2010-05-26 The Promise of Clean Energy
20:33 |

2.0

/ 0.0
Barack Obama: 2010-01-18 at "Let Freedom Ring"
6:06 |

2.0

/ 0.0
Barack Obama: 2010-01-27 State of the Union Address
1:09:44 |

2.0

/ 0.0
Donald Trump Called a 5-year old by Anderson Cooper
3:09 |

1.0

/ 0.0
Elephants Dream
10:53 |

1.0

/ 0.0
Barack Obama: 2010-09-13 Historically Black Colleges Rcptn.
5:49 |

1.0

/ 0.0
Barack Obama: 2010-09-15 Hispanic Caucus Awards Dinner
24:02 |

1.0

/ 0.0
Barack Obama: 2008-03-18 "A More Perfect Union" Speech
37:09 |

1.0

/ 0.0
The Tuskegee Airmen Visit the White House
2:29 |

1.0

/ 0.0
MJ Hegar: Doors (US House 2018 Campaign Video)
3:28 |

1.0

/ 0.0
Sesame Street Grover Old Spice Commercial Parody
0:48 |

1.0

/ 0.0
Diane Horner's Country Hip Hop
2:35 |

1.0

/ 0.0
2011-02-16 Interview w/ John Lewis
3:35 |

1.0

/ 0.0
Fire in My Backyard
0:56 |

1.0

/ 0.0
1960's Jell-O Commerical
1:01 |

1.0

/ 0.0
Michele Obama: 2010-05-26 On Leadership in Detroit
22:40 |

1.0

/ 0.0
Barack Obama: 2010-07-24 Economy Moving Forward vs. Backward
4:43 |

1.0

/ 0.0
Minnie The Moocher [Betty Boop] (1932)
7:46 |

1.0

/ 0.0
Flintstones Cigarette Commercial
1:20 |

1.0

/ 0.0
The Last Man on Earth (1964)
1:26:30 |

1.0

/ 0.0
Barack Obama: 2010-07-03 A Solar Recovery
5:03 |

1.0

/ 0.0
Mow the Lawn
1:09 |

1.0

/ 0.0
HOME, a film by Yann Arthus-Bertrand
1:33:17 |

1.0

/ 0.0
KungFu vs. Yoga
9:29 |

1.0

/ 0.0
Blonde Girl Pregnancy Test Commercial
0:48 |

1.0

/ 0.0
Newsreel about Dwight Eisenhower
1:14 |

1.0

/ 0.0
House on Haunted Hill (1959)
1:14:43 |

1.0

/ 0.0
Michelle Obama at the Congressional Black Caucus Foundation
21:33 | 0.0 / 0.0
Keb' Mo' Performs "Henry" at the White House
2:33 | 0.0 / 0.0
First Lady Speaks to Students at Blues Workshop
39:04 | 0.0 / 0.0
TV Commercial: Mattel Tommy Burst (1960's)
1:01 | 0.0 / 0.0
William Shatner Sings "Rocket Man"
5:12 | 0.0 / 0.0
Nosferatu (1922)
1:24:19 | 0.0 / 0.0
The Brain That Wouldn't Die (1962)
1:10:55 | 0.0 / 0.0
The Fast and the Furious (1955)
1:12:36 | 0.0 / 0.0
The Phantom of the Opera (1925)
1:46:28 | 0.0 / 0.0
Eagle in a Cage (1972)
1:37:12 | 0.0 / 0.0
D.O.A. (1950)
1:23:09 | 0.0 / 0.0
Horrors of Spider Island (1967)
1:14:42 | 0.0 / 0.0
Barack Obama: 2010-09-18 Black Caucus Awards Dinner
27:02 | 0.0 / 0.0
Hamms Beer Commercial
1:21 | 0.0 / 0.0
Barack Obama: 2011-01-25 State of the Union
1:07:30 | 0.0 / 0.0
Night of the Living Dead (1968)
1:35:17 | 0.0 / 0.0
Snowing In My Back Yard
0:12 | 0.0 / 0.0
Leonard Nimoy Singing The Ballad of Bilbo Baggins
1:37 |

-1.0

/ 0.0