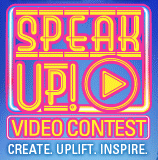 "Speak Up" Contest
Sponsored by Binge and Talib Kweli
$12,000 in prize money!
The Mission
This is your chance to win cash and build upon the greatness, integrity and creativity we love in Hip Hop (for instance, Talib Kweli's Push Thru), Spoken Word/Motivational Speaking (for instance, Saul Williams's Coded Language), and Soul/R&B music (for instance, Eric Roberson's Still), by creating an entertaining video that does not glorify violence, ignorance, or negativity.
The Deal
Binge provides a home, an audience, and some serious rewards for being a part of the positive movement.
When:
Starts Monday, February 25, 2013
Ends Friday, May 23, 2013
How to Enter:
Create or select one of your original videos to upload.
Fill out our video upload form, and be sure to select a contest division for your video: Hip Hop, Spoken Word/Motivational Speaking, or Soul/R&B. Then upload your video.
Your Video:
Must be original, i.e. you are the source of the content.
"Speak Up" about some aspect of the positive, or the harsh and diverse, realities in society and hip hop life.
It should not glorify violence, ignorance, or negativity.
It should show quality and creativity, and must be greater than 1 minute in duration.
Contest Scoring:
90% based on video quality and creativity as determined by a Binge panel of judges.
10% based on people coming to BingeNow.com as a result of sharing your video using the Binge SHARE button.
The Prizes
Grand Prize of $10,000 cash - Video with the highest score.
Two Division Prizes of $1,000 cash each - The videos that have the highest scores in each of the other divisions.
30 Recognition Prizes of a Binge T-Shirt - The top 10 videos in each division.
Winners will be announced on Monday, May 27, 2013.
Why Are We Doing This?
Too often, videos merely glorify violence, negativity, and ignorance in society and hip-hop life. We know there are thousands of individuals who will never get their shot to be heard, simply because they don't follow the negative trend in the media industry or think they will not be recognized for their talent. So "Speak Up"!!
Be sure to also check out our Rate & Win Sweepstakes.
Random Sampling of "Speak Up" Contest Videos
Previous Contests
Live Your Dreams Presented by DJ Drama. October-November 2012. $14,000 in prize money